Leif Totusek: Freestyling at Flowers
IT'S A WINTER Wednesday night and the windows at Flowers are steamed up with an irresistible blend of soukous, soca and jazz that Leif Totusek calls Candela . "It's a Cuban word," he explains, "from their Chanqui style of music. It means fire, but in a controlled way, like a candle." Freestyle is burning all right, slowly: a hypnotic violin riff turns over and over, while underneath it Leif nimbly cuts a complex, darting dance on guitar. The pulsing polyrhythm of the drums, conga and cowbells have everybody's attention; they're locked so tight in a groove you don't feel the time passing. Slowly the guitar and violin merge in a volume and dynamics, making for an exquisite release-the whole band chimes in with full force for the exuberant climax. The crowd roars its approval and orders more pitchers of beer. Hell, why not? They got in free to the hottest jamming in town.
In a residency that will be remembered with gratitude for years to come by the regular patrons, Leif is playing three nights a week at Flowers, the restaurant and bar on the corner of 43rd and University Way. Tuesday feature a jazz trio, Wednesday are Candela night and Thursdays are "Strictly blues" The incredibly versatile anchor of all of this musical action is 29 year-old Leif Totusek, a Seattle-ite of European Gypsy heritage.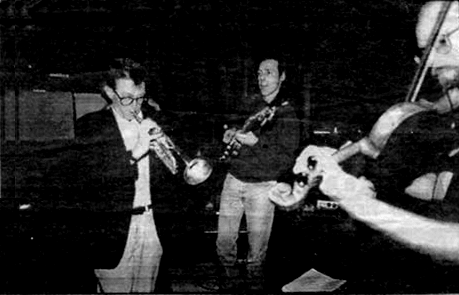 Since beginning his house tenure in December, Leif has invited a parade of Seattle's top instrumentalist to sit in and jam, making each night special and uniquely memorable." I like playing as many different styles as I can. Miles didn't stay in one place: Jimi didn't and he's the reason I play guitar." His Flower gigs should continue 'til the end of February, but will surely be over too soon as Leif will likely be receiving offers come spring from his far-flung musical friends, so, bottom line: pick a night or pick all, but catch him while you can.
"I'm a freelance musician number one," says Leif. " The Haitian band Batwel Rada might want to go on tour, and if I could be with these great, wonderful people, I'd be happy."
Raised in a musical family in the heart of Capital Hill, Leif picked up the guitar at 14 and started jamming with friends. With-in a year he was playing professional gigs. In his early twenties he moved to London to study and work with legendary guitarist Mose Fan Fan and his band Somo Somo. During his years abroad, Leif immersed himself with a passion in London's international community of musicians, learning from and being employed by master and top groups from Nigeria, Senegal, and Algeria as well as Haiti and Cuba. He developed a fluency in an astonishing array of traditional folk music's as well as contemporary styles from these countries. Although he couldn't afford to travel to the countries of the music's' origins, from his deep respect, hard work and inspiration, he transformed himself into a genuine journey-man guitarist.
Don't call him a "world musician." He bristles at the phrase. " Call it soca, call it rumba, call it African jazz, if that's what it is," he says. " But that term [world] doesn't mean anything-it excludes the U.S. from being part of the world. The music is funky and blues and mojo. And the music is serious. There's a lot of different ethnic groups just in Zaire. In Senegalese music, Wolof to Lingala to Zulu is a different tongue. Africa is a big place."
I told Leif that sometimes soukous numbs me with its constant cheerfulness and bright tones, but that his music seems to incorporate a broader palette. Leif asked me which musicians I'd heard. Kanda Bongo Man came to mind.
"Well that's a Parisian-based band, and they're different from groups living and playing in Zaire.' He said without missing a beat. "Soukous as a trendy music is awful. It's bunk. I don't mean to put anybody down, but it's a stupid thing in Paris: people are taking advantage of Africa by giving some groups work as musicians but putting them in clothes of Parisian designers. Bands like Zaiko Lenga Lenga and the poet Remy Ongala play the real soukous which is blues music, it just sounds different. I mean they're not bending the notes like in American blues. But I mean those people are living under Mobuto, who's the forth richest man in the world and they're one of the poorest populations. They have no jobs and no food. It's not like calypso; it's not like soca; you can't play soukous music without the blues spirit. It's about survival.
Returning from London, he established himself in Boston for several years, where he continued his freestyle project and recorded with R&B singer Shirley Lewis. He also began composing his own songs, which draw most heavily from the styles of Zaire and Congo via Cuba. The interchange between Cuba and Zaire has been intense: bands in each country regularly sing in the others language, so Leif writes lyrics in English that are "sympathetic to the music" and has them translated into both Lingala and Spanish.
On a recent trip back to London, Leif laid down tracks with ex-members of 3 Mustaphas 3. "Dawson Miler and Kim are putting together a very funky band right now," says Leif, excited for his friends. He's interested in recording Freestyle, who've put out one tape, but he has mixed feelings about the industry: "I'd rather keep it small and independent. I don't want somebody else's label on freestyle. I've turned down contracts before. But that was because I didn't feel the music was mature enough. I'm starting to think differently now. It's a tough thing, man. I've recorded a lot for other people's projects and it's easy to get taken advantage of by a record company. You know, I've starved for this music, and I don't want to end up. like, owing them money."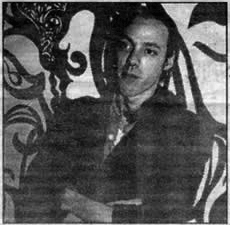 Leif recently returned from doing some shows in Las Vegas-in theaters, he stresses, not casinos. He was dismayed, however, by the racism he witnessed. It has made him appreciate his home city.
"One thing about Seattle, It's very cool about that," he says "I like the mentality. It was a great place to grow up. My parents taught me to respect other people's paradigms of living. Some people feel it's not as good as it should be here, but actually it's pretty good. It was very ironic for me to travel and find much higher levels of racism in other parts of the country and abroad. I mean England, man. And parts of the East Coast was like . . . old style.
Onstage Leif is terse with his between-song introductions of the band members and songs. But offstage, he speaks in a uniquely colorful yet self-effacing manner many life-long improvisers have: they've absorbed the lingo of their elders as well as introduced their own. Sentences flow out of him like musical idea, full of spontaneity yet sprung from his deeply held ideas. As is the prerogative of the improviser, he will connect thoughts while restating the theme until he is satisfied.
"So I went to London, to hit with Mose Fan Fan-who's got a new band out now called Bana Oke', which is a tribute to Franco who's one of the great Zairian guitarist. The African community there is very, very hip, very into jazz: their culture is very communal. The rhythms, the way they work together, It's bad! It's the most advanced music I know in the world today as far as conceptually. Rhythm-man, that's the shit! It's very simple actually, but they have the discipline and respect for the rhythm, a higher consciousness of it. It's the spirituality of the music that makes it so beautiful. Western music got more involved in the science. But everyone comes from Africa. When you listen to the rhythms you here how the migration of people went. You can follow the Celts all the way back to Egypt, so Irish music is African music in my opinion. When you play rumba you're playing music that's millions of years old and you're putting your own little spice on it"
Is there any other kind of music he wants to add to his already dizzying arsenal? "Well, I love Rai, which is an Algerian blues music, outlawed until 1979. I like Malian music, Guinean music, and Gypsy music Bohemian music from Turkey, Bulgarian and Greece. I like Meredundrum music from India. I enjoy Irish music a lot. It's funny, me playing this stuff. I might insult an Irishman or a Moroccan, but if the spirit is there and the respect is there, I believe it?s all the same.? Simultaneously blending cultures and styles yet preserving the integrity of each is the secret to the soulful humility and love supreme of the improviser: they take off with every song but they are always aware or the source.
Flowers has a checkered floor-not that you could see it with all the dancing bodies in the front- and wood-paneled bar. The mirrored ceilings are a definite asset for those reclining in back to see. Or you just absorb the music and look out on the Ave. through the huge corner bay windows. The lack of a cover charge makes it doubly hard to resist, which Leif is aware works to his advantage.
"Hey, we're up here bringing this music to a lot of people that want to hear it," he says. "Keeping it free is important, especially in the University area. Seattle needs more diversity in the scene, and this way people can just come on in and check it out." I asked him whether the consistent crowds didn't justify a cover charge of a couple dollars.
"Well maybe, if we keep doing it. I'd love to be able to pay the musicians more, because I respect them so much and they deserve it. But the owners [of Flowers] are very good people and they're into making something good there, so they will compensate us." Looking at the thin and wiry guitarist, you might guess he's a musician who lives from gig to gig, but if you watch him while a sparkling, slippery solo flows through him, it's clear his soul is well nourished.
"We got Jimi here," he smiled" what more could I ask for?"
Though lots of people like to speculate what Hendrix would be up to if he were still a live, at that moment it was powerfully obvious that if Jimi could revisit one place in Seattle today-and you know he would be aching for a jam-it would be Flowers with Leif and Freestyle. Shouldn't you be there too?
Watch for extra special upcoming shows with Lora Chiorah-dye, a Zimbabwe who teaches Shona music and dance in Seattle as well as singer and dancer Dora Oliviera, Samba Queen of Brazil. There will also be a cover for these nights; Freestyle will also play Friday, Feb. 11 at Murphy's Pub in Wallingford. Finally, just watch out in general. Leif will be playing around a lot.