LEIF TOTUSEK - FREESTYLE CANDELA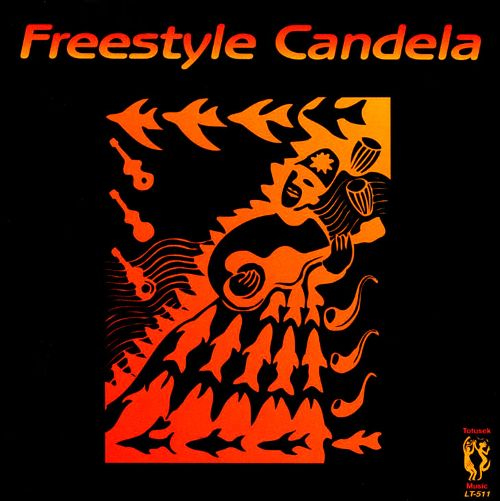 1. Prim Rose 2:23
2. Volino 6:33
3. Cathnor Rd. 2:06
4. Soukous 2:52
5. Coming Home 4:11
6. Oh Fan Fan 6:13
7. Song for Haiti 6:19
8. Mali 4:20
9. Papa Franco 7:33
10. Lovers 2:55
11. Ashe' Rumba 5:41
Freestyle Candela
by Leif Totusek
Freestyle Candela is Guitarist Leif Totusek and his compositions based on Soukous guitar, Cuban Rumba and inspirations from Hendrix to Haiti. Leif has played extensively with Soukous Guitar master "Moses Fan Fan" and has been special guest with "Tabu Ley Rochereau (jazz Alley Seattle,Wa.)the godfathers of the soukous form.
1. Smiles Down 6:35
2. A Shade of Jade 4:35
3. Duniya 4:36
4. Tsunami 7:55
5. Oiseau 4:01
6. Arne's House 4:01
7. What If? 4:25
8. Take the E Line 2:58
9. Sema 6:16
GO
by Leif Totusek
Leif Totusek and 1-2-3 (Phil Sparks, Larry Jones) are three veteran jazz musicians in Seattle WA area who have been captivating audiences for the past 20 years with jazz standards and Rumba originals. Their new live album entitled Go released 2015 is in the groove, keeping jazz alive and well.
LORA CHIORAH & LEIF TOTUSEK
1. Chemutengure 6:21
2. Josinda 7:41
3. Manhanga 5:59
4. Mahindikindi 3:22
5. Zimbabwe 4:01
Mbira & Guitar
by Lora Chiorah & Leif Totusek
Lora is a beautiful Mother of the Earth, blessing the Earth we all stood upon within her songs and movements. Leif Totusek's guitar rang out like life through a rippling heat-mirage . . . Music this deeply-rooted in the earth pulls a sweetness, even into struggle and pain. By Lorraine Hart
THE TOTUSEK, BUTKOVIC, IOCHEV TRIO
1. Balkan Fireworks 5:43
2. Rai 6:09
3. Amela 6:31
4. Gankino Horo 4:20
5. Turkish Rachenica 4:56
6. Medo 6:10
7. Greek Rachenica 4:47
The Laundry Room Session
by The Totusek, Butkovic, Iochev Trio
Mario Butkovic - guitar, Boris Iochev - drums & Leif Totusek - guitar... live at The Laundry Room Seattle. The music featured on our first release is based on a long-established folkloric tunes, passed through generations and rearranged by the trio for your enjoyment. Leif Totusek is an American born guitarist and composer, well versed in the be-bop & traditional African idiom. Guitarist Mario Butkovic (Bosnia/Croatia), together with the Bulgarian born drummer Boris Iochev were the two other fundamental constituents of this powerful musical expression. Enjoy!
1. Banshee 2:46
2. Si Bheag Si Mhor 4:47
3. Kesh 2:51
4. Eileen Curran 3:08
5. Drowsy Maggie 3:03
6. Paddy Fahey 5:24
7. Help I'm a Bug 3:09
8. Otter's Holt 4:06
9. Father Kelly 2:51
10. Star of a County Down / Cliffs of Moher 5:17
11. The Scholar 2:44
Banshee
by The Jamisons
The musicians: Leif Totusek - guitar and foot stomp and Julie Baldridge - fiddle performing Traditional Irish music...
Never Say Goodbye
by Eric Fridrich & Leif Totusek
A soulful duo based in Seattle,WA featuring Songwriter, Eric Fridrich on vocal,guitar and harp with guitarist Leif Totusek...